At RESTORE, our practitioners make up your Integrated Health Care Team.
Self+ Social + Structure + Action = Restored Health

The ability to change is not only about willpower. If willing a healthy body were all it took, you wouldn't be visiting us. It's proven that willpower alone does not work. It also takes social support, structural support, "how to do this" knowledge and personal action.
RESTORE offers the social support and the structure of a five-part Lifestyle Change Program that guides you step-by-step through all the critical steps needed to adopt lasting lifestyle change.
We work closely alongside you to demonstrate and teach you exactly what to do and how to do it.  Finally, full support, guidance, counseling, education, and constant encouragement are available all along the way.
Let's get you into action.
The Five-Part Lifestyle Change Program consists of:
A comprehensive 2-hour Integrative Medicine Consultation and 2 additional follow-up appointments
Complete 2-hour fitness evaluation
Customized exercise plan development and education and 2 additional follow-up appointments
Integrative Nutrition Consultation and 2 additional follow-up appointments
Holistic Counseling Consultation and 2 additional follow-up appointments
Ongoing follow-up,through our patient portal, between visits to provide continued support and guidance
1. Integrative Medicine Consultation
Your Integrative Consultation is a comprehensive and holistic 2-hour medical evaluation that reviews your overall health condition along with examining the possible underlying factors affecting your health.
Rather than just treating symptoms, Dr. Aman will perform a thorough history and physical exam. As a Fellow of Integrative Medicine trained in the use of herbal medications, supplements, clinical nutrition, and mind-body medicine, she will also talk with you in-depth about all influences on your health.
Review of your complete medical history and the reason for your visit
Complete physical exam
In-depth discussion about all the influences on your health such as nutrition, exercise, sleep, stress, family and work
Discussion of evidence-based complementary therapies that can help you meet your health goals
Appropriate laboratory tests
Review of findings and explanation of the integrated treatment plan that is best suited to your particular health needs
Regular follow-up sessions
2. Complete Fitness Evaluation
Cardiorespiratory fitness (CRF), or what we commonly refer to as your "fitness level", is well known to be a strong and independent predictor of mortality. That means that even if you had no other health conditions but have poor aerobic fitness, then your chance of dying from any cause is higher than someone who is more aerobically fit.
We know that the importance of CRF is often overlooked compared with other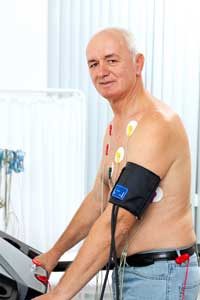 disease risk factors such as hypertension, diabetes, smoking, or obesity. CRF is usually expressed in metabolic equivalents (METs) or maximal oxygen uptake (VO2 max) measured by exercise tests such as a treadmill or cycle ergometer.
Body composition is a measurement of how much fat mass you have versus lean muscle mass. Even if you appear to be healthy on the outside and weigh in at a seemingly normal weight on the scale, you may still have an unhealthy or altered body composition which puts you at risk for serious health problems such as obesity, high blood pressure, type 2 diabetes, heart disease, fatigue, cancer, and more.
At RESTORE, we offer a comprehensive fitness evaluation that includes cardiorespiratory and functional exercise tests.
Cardiopulmonary exercise test using a treadmill or bicycle
Determination of VO2 max (maximum oxygen consumption)
Functional exercise testing (muscle strength, balance, and flexibility tests)
Body composition and visceral fat analysis using the gold standard DEXA scanner
3. Strength and Movement Program
Strength and movement play a role in all of our lives, no matter our state of health. When we think of exercise, we think of setting time aside to perform it. At RESTORE, we want to teach you how to think about movement as part of your regular day.
Our exercise physiologist is specially trained in caring for patients dealing with
health conditions that limit their ability to exercise.
She will develop a customized exercise plan based on the results of your medical history, physical limitations, and results of your comprehensive fitness evaluation. She will also teach you your recommended exercises and monitor your use of the exercise equipment to ensure good understanding of safe and appropriate activity levels for exercises performed in the clinic, your home, and/or the gym. You will work together to determine short and long-term goals, whether it be preparing for a half marathon or improving your golf game. The idea is to get you moving and enjoying the things you already love to do.
Initial 1-hour private instructor led exercise plan development, teaching, and practice
Continued private follow-up sessions to monitor progress and for continued exercise plan development
4. Integrative Nutrition Consultation
When one thinks about nutrition, one should think about nourishment. Dietary changes can have effects as dramatic as taking medications and yet despite this fact, we don't provide adequate nutritional counseling in medical treatment plans.
At RESTORE, Nutrition Counseling is an integral part of the services we provide.
Our nutritionist will work to identify interconnections between food, movement, rest, and stress in your life. The goal is to determine the healthiest and most effective program for you according to the latest nutritional research and your unique biochemical make-up. This means we do not advocate diets that eliminate entire food groups or suggest the same recommendation for all people experiencing a particular health concern.
An initial 1-hour comprehensive evaluation and review of your symptoms, laboratory tests, food preferences, current diet, health history, and health goals to begin to build your personalized nutrition plan
Addressing by-products of digestion, gastrointestinal health, neurotransmitter response, immune function, metabolic shifts and balance, allergic or sensitivity reactions, and systems and pathways of detoxification
Focus on how food can increase energy, reduce inflammation, promote healing and improve overall wellbeing
Advising patients and their families on the key principles of nutrition, diet modifications, food selection and preparation, healthy eating habits, and nutrition monitoring
Regular follow-up sessions
5. Holistic Counseling Program
An integral part of holistic care must take into account the mind-body connection by evaluating how relationships, community, stress, anxiety, spirituality, and your environment affect your health.  At RESTORE, our Licensed Professional Counselor is specialized in addressing all of these influences on your health using evidence-based therapies such as Cognitive Behavioral Therapy (CBT), Mindfulness, Solution Oriented Therapy, Relaxation-Training, Hypnosis, Meditation, and Guided Imagery.
Approaches to help you:
Facilitate change around problematic or unhelpful patterns of thinking
Reduce suffering
Address marital and relationship concerns
Improve resiliency and minimize stress
Strengthen problem solving skills
Regulate emotions and impulses
Improve assertiveness, self-confidence, and self-image
Define and a create a more meaningful and purposeful life
Improve sleep
Treat anxiety and depression
Treat tension and migraine headaches
Treat emotional eating patterns
Reduce inflammation
Improve digestive symptoms
Treat chronic pain
Smoking and alcohol cessation and much more!
An initial 1-hour evaluation that examines how relationships, community, stress, anxiety, spirituality, and your environment affect your health
Continued follow-up sessions

Acupuncture is an ancient Chinese treatment that stimulates the body to naturally heal and improve function. Trained in traditional Chinese medicine, our licensed acupuncturist works to restore and regulate vital energy flow to pathways in the body, improving function and reducing pain.
In an official report, the World Health Organization (WHO) has listed several symptoms, diseases, and conditions that have been shown through controlled trials to be treated effectively by acupuncture.
These include:
hot flashes
low back pain
sciatica
osteoarthritis
rheumatoid arthritis
headache
high blood pressure
depression
gastritis
chemotherapy-related nausea
allergic rhinitis (including hay fever)
tennis elbow
sprain
postoperative pain
biliary colic
depression (including depressive neurosis and depression following stroke)
dysmenorrhea, primary (painful menstrual periods)
epigastralgia, acute (in peptic ulcer, acute and chronic gastritis, and gastrospasm)
facial pain (including craniomandibular disorders)
hypotension, primary
induction of labor
knee pain
morning sickness
nausea and vomiting
neck pain
pain in dentistry (including dental pain and temporomandibular dysfunction)
periarthritis of shoulder
renal colic
stroke

adverse reactions to radiotherapy and/or chemotherapy
Acupuncture is a common choice for patients recovering from accidents or injuries. Dozens of medical centers are adding acupuncture into programs to enhance surgical recovery, physical therapy and stroke rehabilitation outcomes.
Our talented Acupuncturist and Oriental Medicine Practitioner will combine acupuncture, cupping, moxa, Chinese herbs, energy healing, vibrational medicine, aromatherapy, and use of essential oils to provide a truly integrated treatment session.
The Acupuncture and Oriental Medicine Program consists of:
Initial 90-minute consultation with our Acupuncturist to review your medical history and symptoms
Treatment that is customized to you and your desired result
Treatment that reflects your basic constitution/body type, daily environment, as well as the nature or pattern of your symptoms
Japanese, Esoteric, Richard Tan's, Master Tung's, or Korean 4 needle techniques of acupuncture
Acupressure if acupuncture with needles is not desired
Incorporation of Chinese herbal creams and tinctures that are carefully evaluated for safety, purity, and interactions with your current medications
Incorporation of energy healing techniques including External Qi Healing (EQH)
Incorporation of reflexology, moxibustion and cupping
Incorporation of aromatherapy, essential oils, and flower essences

According to published recommendations from the U.S. Preventive Services Task Force, healthcare professionals should confirm high blood pressure readings taken in their office with a method called ambulatory blood pressure monitoring (ABPM) before starting treatment. During ambulatory blood pressure monitoring, a small device that is the size of a cell phone and a blood pressure cuff are placed on the patient. This device takes continuous blood pressure readings for 24 hours.  Home monitoring also can confirm a high blood pressure diagnosis.  Secondary confirmation of high blood pressure is useful because caffeine, nicotine, emotions, stress, pain and physical activity can affect it short-term, according to the USPSTF report.
Ambulatory monitoring better measures blood pressure and therefore better predicts the risk of heart disease or stroke than office measurement alone, according to the American Heart Association (AHA).  It's also useful for diagnosing "white-coat hypertension," high blood pressure appearing only at the doctor's office when medical professionals are present which can lead to the over treatment of high blood pressure.
People with white coat hypertension are at increased risk for developing sustained hypertension.  There is also "masked hypertension," which occurs when someone's blood pressure is normal at a medical office but elevated at work or home.
According to the AHA, about 80 million U.S. adults have high blood pressure but nearly 20 percent are unaware of it. Uncontrolled high blood pressure raises the risk of stroke, heart attack or heart failure.
A normal blood pressure is defined as less than 120/80. Just recently, on November 13, 2017, new guidelines were passed by the American College of Cardiology and American Heart Association which lowered the definition of high blood pressure to anything above 130/80.
This is a significant update and one that means millions more American's will be classified as having high blood pressure (almost half of the U.S. population!). This change was instituted because studies show that complications can occur at lower blood pressure numbers and to allow for earlier intervention. A person with a blood pressure above 130/80 has already doubled their risk of cardiovascular complications compared to those with a normal blood pressure.
Blood pressure categories in the new guideline are:
Normal: Less than 120/80 mm Hg;
Elevated: Systolic between 120-129 and diastolic less than 80;
Stage 1: Systolic between 130-139 or diastolic between 80-89;
Stage 2: Systolic at least 140 or diastolic at least 90 mm Hg;
Hypertensive crisis: Systolic over 180 and/or diastolic over 120
ABPM Program consists of:

Education regarding ambulatory blood pressure monitoring system
Fitting of monitor
Return to clinic in 24 hours to record results
30-minute consultation with physician to discuss findings and develop treatment plan

Therapeutic massage is more than just a way to relieve stress.  It is a valuable tool to promote health and wellness. In response to massage, specific physiological and chemical changes cascade throughout the body, with profound effects.  Consider massage appointments a necessary piece of your health and wellness plan, and work with your practitioner to establish a regular treatment schedule for best results.
Studies have found massage may be helpful for:
Anxiety
Digestive disorders
Fibromyalgia
Headaches
Insomnia related to stress
Myofascial pain syndrome
Soft tissue strains or injuries
Temporomandibular joint pain
Lymphedema
Immune function
The medical community is actively embracing bodywork.  Many hospitals are incorporating on-site massage practitioners to treat post-surgery or pain patients as part of the recovery process.  Studies have demonstrated that massage can offer health benefits for people with cancer.  There is no evidence that massage can cause an existing cancer to spread. Lymphedema massage is also beneficial for reducing swelling when done before and after surgery of any kind.
Your massage therapist is highly skilled at combining several modalities of bodywork to best address your symptoms and meet your needs.  She will also collaborate with other RESTORE practitioners, such as our exercise physiologist, to work on areas identified during your strength and movement sessions for a truly integrated approach to healing.
Your 60 or 90-minute Therapeutic Massage Session includes:

Review of your medical history and reason for massage therapy
An integrated massage combining several modalities to best address your symptoms and needs
Areas of Massage Offered:

Swedish
Medical
Oncology
Trigger Point/Deep Tissue with Cupping
Neuromuscular
Cranio-Sacral
Lymphatic Drainage
Hot Stone Massage
Bamboo-Fusion
Reflexology
Aromatherapy
Myofascial Therapy
Sports
Prenatal

Prevention and treatment of osteoporosis should be at the forefront of medical care.
According to the National Osteoporosis Foundation, about one in two women and up to one in four men over the age of 50 will break a bone due to osteoporosis. The disease causes an estimated two million broken bones every year.  Vertebral fractures are the most common osteoporotic fractures and are a "gateway" to other more serious fractures, like the hip.
The preferred method for diagnosing osteoporosis is bone mineral density (BMD) testing.
Current recommendations are to begin duel-energy x-ray absorptiometry (DEXA) screening for osteoporosis at age 65 in women and age 70 in men with no risk factors.  New guidelines add that postmenopausal women of any age should be checked if they have individual risk factors that give them 9% to 10% risk of breaking a bone in the next decade, which is roughly the same risk as a 65-year-old white woman with no additional risk factors.
Risk Factors
Bone Health Program consists of:

Appropriate bone density testing using the DEXA scanner and retesting every 2 years per guidelines
Adequate calcium and vitamin D intake
Regular weight-bearing and muscle-strengthening exercise
Smoking cessation
Moderation of alcohol intake
Fall prevention strategies
Family History of Osteoporosis
Previous fracture
White race
Dementia
Poor nutrition
Estrogen deficiency
Early menopause (before age 45)
Fracture from minor trauma
Rheumatoid arthritis
Low body mass index
Corticosteroid use (other medications as well)
Alcohol use or smoking history
Endocrine disorder
Physical inactivity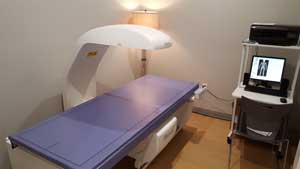 Science now tells us that even if you appear to be healthy on the outside and weigh in at a seemingly normal weight on the scale, you may still have an unhealthy or altered body composition. That explains why some people who are "thin" develop diabetes or have a heart attack. An unhealthy body composition puts you at risk for serious health problems such as obesity, high blood pressure, type 2 diabetes, heart disease, cancer, and more. 
Body composition analysis tells us how much lean muscle you have versus fat. The most important component of total body fat is visceral fat which is metabolically active and surrounds our internal organs. Visceral fat releases chemicals into your blood stream that promote inflammation and increases your risk of developing many diseases. 
The gold standard test (best test) is the dual energy X-ray absorptiometry or DEXA scan. This is the same machine that evaluates your bone density to screen for osteoporosis. The DEXA is better than a scale, calipers, or other methods that have been used to measure body composition. The scan takes just 7 minutes and has less radiation exposure than the exposure you get in your average day.  
Few centers have access to this technology but at RESTORE, we are committed to offering the highest level of risk assessment and have our own DEXA scanner. Every scan is accompanied by a 15 minute consult with Dr. Aman to review your results. 
Body Composition Analysis consists of:

7-minute full body scan
15-minute physician consult

Studies show that near infrared light (IR) therapy can improve wound healing, relieve arthritic knee pain, improve circulation, increase endorphin levels, and activate neuromodulators (chemical signals released from brain cells). The emitted light has a wavelength of 800 nm to 1200 nm, considered to be a form of energy that is not harmful to tissues and even protects from the effects of ultraviolet light because of IR's antioxidant effect.
Additionally near infrared light therapy has been shown to relieve
Muscle spasm and pain
Muscle tissue tension
Joint and muscle stiffness
Post-surgical healing
Our light panels meet the FDA safety standards and are registered with the Food and Drug Administration as therapeutic devices