'Tis the season for holiday baking!  These sumptuous mini-loaves are perfect for gifting and your home will smell absolutely amazing while they are cooking.  Wheat flour is replaced by ground flax and coconut flour in this recipe, delivering lots of gut-friendly fiber and healthy fats.  The original recipe comes from the very talented Vanessa at Healthy Living How To, and I have adapted it over the years to my family's taste, including extra cinnamon, a splash of vanilla, and Ghirardelli jumbo chocolate chips.  While the recipe works perfectly with regular sugar, I will often make it with a quality birch xylitol to reduce the sugar content.  The recipe below is scaled to 2 mini-loaves, but I recommend at least doubling it so you have some for yourself!
Gluten Free Pumpkin Spice Flax Loaf with Dark Chocolate Chips
Yield: 2 Mini Loaves/10 Slices
Ingredients:
½ cup Bob's Red Mill Ground Flax
½ cup Bob's Red Mill Coconut Flour
½ cup granulated sugar
2 tsp baking powder
2 tsp pumpkin pie spice
1 tsp cinnamon
¼ tsp salt
4 large eggs
1 cup canned pumpkin
1 ½ tsp vanilla extract
½ cup Ghirardelli 60% Cacao Bittersweet Chocolate Chips
Instructions:
1. Preheat oven to 350˚F. Grease 2 mini loaf pans (approximately 5 ¾" x 3" each) and line each with a strip of parchment paper for easy removal.
2. In a large bowl, whisk all dry ingredients (flax through salt).
3. In a medium bowl, whisk eggs, pumpkin, and vanilla extract. Add wet ingredients to dry and stir until just combined. Add chocolate chips and stir once more.
4. Divide mixture evenly between 2 pans. Place in center of oven and bake approximately 40 minutes.
5. Remove from oven and allow loaves to cool in pans. Remove loaves using parchment paper to wire cooling rack. Cool completely before storing in the fridge.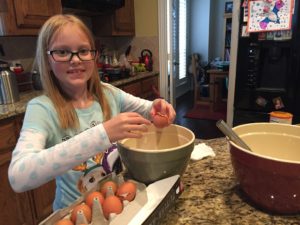 Nutrition Information Per Slice (using regular sugar):  170 calories, 7 g fat, 22 g carbohydrate, 5 g fiber, 15 g sugar, 5 g protein, 180 mg sodium.