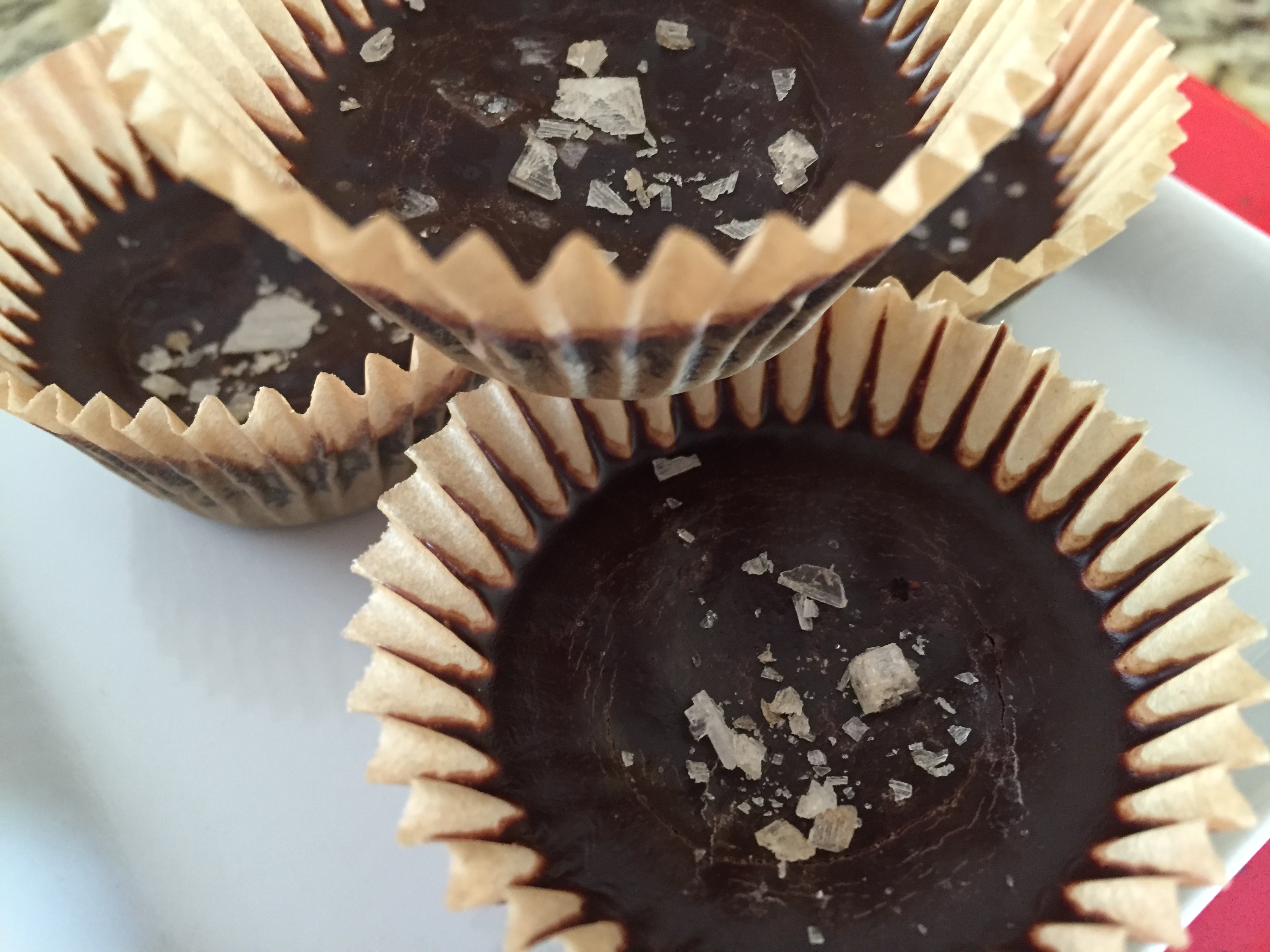 The ketogenic diet has been used for decades as a treatment for children with epileptic seizures, and research continues to emerge on the diet's potential to help in other areas, including certain types of brain cancer.
These tiny chocolate cups are completely sugar-free and safe for those following a ketogenic diet, providing a 4:1 ratio of fat to protein/carbohydrate grams.  They are also fun to make and can be stored in the freezer for whenever the craving for a perfectly-portioned, salty, and intensely chocolaty treat may strike.
For more information on the ketogenic diet and epilepsy, The Charlie Foundation is an excellent resource.
Dark Chocolate Keto Cups with Smoked Sea Salt (Adapted from Healthy-Living-How-To)
6 tbsp good quality unrefined virgin coconut oil (or 3 tbsp ghee + 3 tbsp coconut oil)
Pinch of fine salt
6 tbsp unsweetened cocoa powder
32 drops NuNaturals Nustevia Alcohol-Free Vanilla Stevia**
Maldon smoked sea salt flakes (for garnish)
**Note:  I have used other liquid stevia brands without success, as it seemed more or less product was needed in the recipe, so I highly recommend using the NuNaturals Vanilla.
Instructions:  Line a mini muffin tin with 12 paper liners.  Gently heat coconut oil in a glass measuring cup, stirring until completely melted.  Add a pinch of salt.  Add one tablespoon of cocoa powder at a time, stirring well until completely dissolved between each tablespoon.  Stir in liquid stevia.  Carefully pour the mixture into the 12 liners and place in the fridge or freezer to harden.  I like to set the chocolates for a few minutes and then top with sea salt so it doesn't all sink to the bottom.  The chocolates will keep well in a sealed container in the freezer.
Nutrition info per chocolate:  70 calories, 7.3 g fat, 1.5 g carbohydrate, 1 g fiber, <1 g protein.