The start of the holiday season means fun family gatherings and pot-luck parties with friends and co-workers.  A good strategy for not derailing your healthy lifestyle goals is to bring a veggie and protein-packed dish that you are excited to eat AND share.  This zesty shrimp salad originates from Eating Well Magazine and can easily be modified to serve as a meal, snack, or dip.  You can even leave the shrimp out for a vegetarian option that travels well.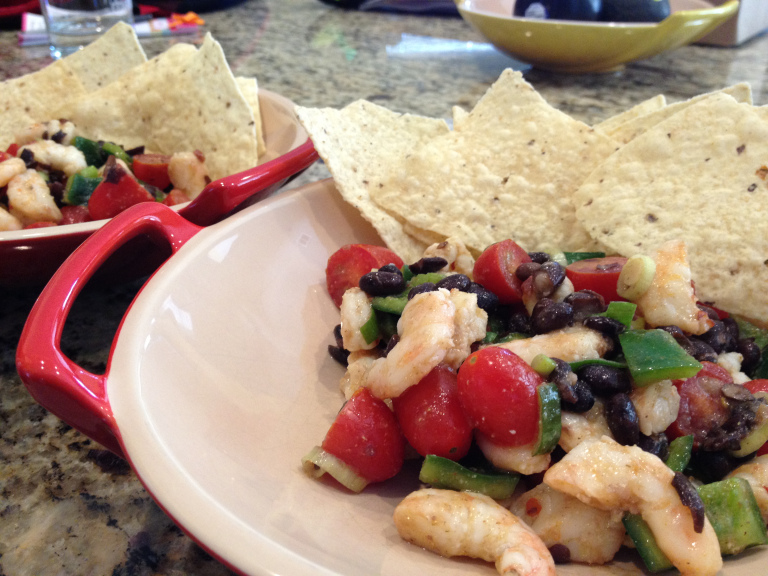 Ingredients:
3 tablespoons apple cider vinegar
3 tablespoons extra-virgin olive oil
1 tablespoon minced chipotle chile in adobo (see note below)
1 teaspoon ground cumin
1/4 teaspoon salt
1 pound peeled and deveined cooked shrimp cut into pieces
1 15-ounce can black beans, rinsed
2 cups quartered cherry tomatoes
1 large poblano pepper and/or bell pepper, chopped
1/4 cup chopped scallions
1/4 cup chopped fresh cilantro
Tortilla chips for serving (optional)
Directions:
Whisk vinegar, oil, chipotle, cumin and salt in a large bowl. Add shrimp, beans, tomatoes, poblano (or bell pepper), scallions and cilantro; toss to coat. Serve room temperature or cold.
Chipotle chiles in adobo are sold in cans at most grocery stores. You only ever need a small amount for a given recipe, so I like to toss the contents of the whole can (seeds and all) into the mini food processor and blend, then lay flat in a Ziploc bag in the freezer. It keeps for a long time and you can just break off a chunk when you need it.